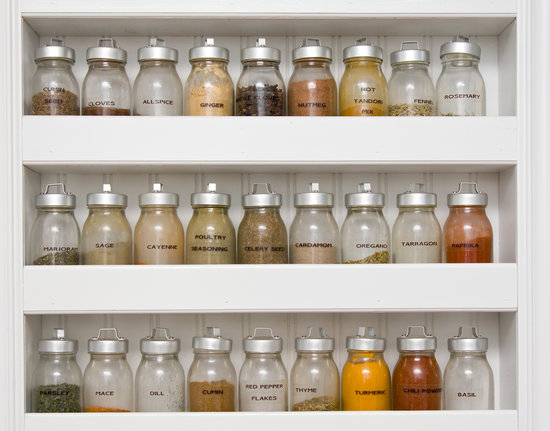 Whether you're partial to Indian curries,
homemade chili
,
warmly spiced granola
, or all three, chances are you've accrued quite the spice collection, but do you know how best to store your flavorful bounty? Protect your investment by keeping a few simple guidelines in mind:
Store spices in airtight containers away from direct heat and sunlight, preferably in a cupboard, pantry, or drawer, so as to avoid damage to their essential oils. If storing spices in a drawer, stock up on a brand whose lid is labeled on top, like Morton & Basset, for easy identification of the contents within, or label the lids yourself. If housing spices in a cupboard or pantry, try a tiered shelf or lazy Susan for the best access.
When you first crack open a spice jar, make certain to label it somewhere — we typically mark the bottom of the jar — with the date using a permanent marker. This way you'll know when the contents' potency has dulled, avoiding bland, disappointing dishes ahead. Whole spices are typically good for up to three years, while preground should be discarded after one year.