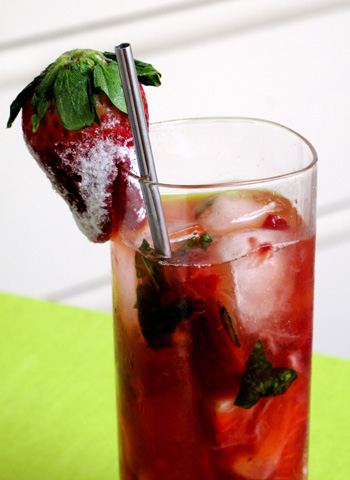 It's been raining incessantly in San Francisco, quite the departure from our stay in Florida, where we were in town for the
South Beach Wine & Food Festival
.
As a San Franciscan who'd never seen the staggering good looks of Miami Beach, I was more than happy to head back home to Fog City and be in my element.
However, now more than a week later, I'm longing to be back there. The image that keeps playing in my mind? The serenity of lying in the sun poolside at the classic Eden Roc, where I stayed, with a riveting book in one hand and an even more compelling cocktail in the other.
I can't replicate the sun, sand, and surf, but sipping on one of these warmer-weather libations puts me at least halfway there. I love the combination of strawberries and basil; it's a little earthier than mint. Gin, too, adds a bit of complexity that's not there with vodka. For a cheerful drink recipe to remind you of sunnier climes, keep reading.