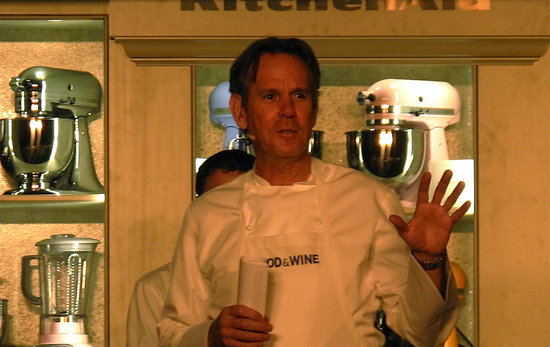 "I don't get to come here often,"
Thomas Keller
said to a morning audience at this past weekend's
Aspen Food & Wine Classic
. There's no question the godfather of all restaurant chefs has been busy, between his nine restaurants, six Michelin stars, cookbooks, and Bocuse d'Or leadership, so it was a rare treat to watch him demonstrate how to prepare homemade preserves out of his award-winning cookbook,
Ad Hoc at Home
.
While Keller demonstrated the versatility of sweet onion tapenade, cured lemons, and mushroom conserva, he revealed his sense of humor when he spoke about being in the first group of Best New Chefs 22 years ago, preparing a lobster dish that was served in a resident's home. "After 600 lobsters, I'm sure that home was never the same again," he joked. The chef also offered plenty of useful advice. To check it out, keep reading.