Michelle Obama's first cookbook American Grown will be released on May 29, and we're cooking up some of Michelle's tried-and-true recipes like this apple cobbler, a favorite of President Obama.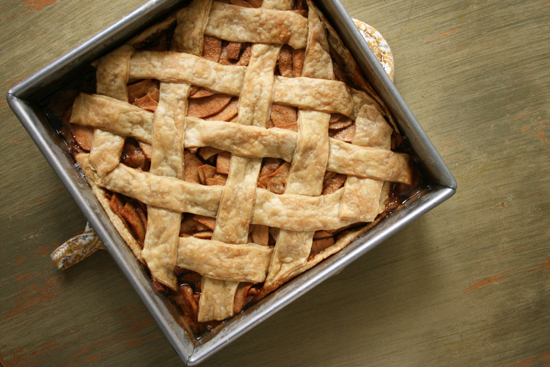 The First Lady has a unique, slow method of preparing this cobbler. She marinates the apples in their spicy, sugary juices overnight, then slow cooks the cobbler at a low temperature to gradually break down the apples and crisp up the crust. The end result is absolutely heavenly: the cinnamon and nutmeg are perfectly balanced; the slow marination and long cook-time create a complex, caramel flavor; the apples dissolve upon bite, and the crust is as crispy as promised.
I used the lesser amount of sugar, and opted for a crisscross pattern on the top of the cobbler rather than covering the entire baking dish. Despite the 12 or more hours it requires to make this cobbler, it is a cherished, special occasion treat to be enjoyed during family gatherings or neighborhood barbecues.