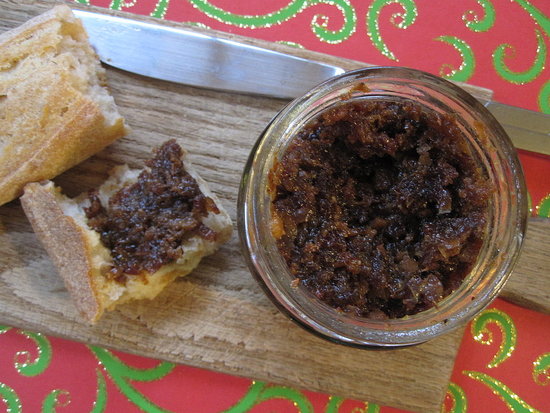 Sweet edible gifts not your thing? Then how about something savory? Even better, how about something bacony? Inspired by Top Chef's Kevin, I decided to try making bacon jam. I'm glad I did, this bacon jam is to die for. Seriously, it's amazing.
It's so good that I could only give one jar away. The other jar I gifted to myself. It's smoky, sweet, porky, and spicy. A long, slow cook ensures that the onions caramelize and the bacon melts. It has the chunky texture of tapenade and is easy to spread.
I've enjoyed it on toast, crackers, pasta, and simply, devilishly, by the spoonful. If you want someone to fall in love with you, I highly recommend giving them bacon jam. The words themselves are magical: say it with me, bacon jam. Bacon jam. You get the idea, now get the recipe!