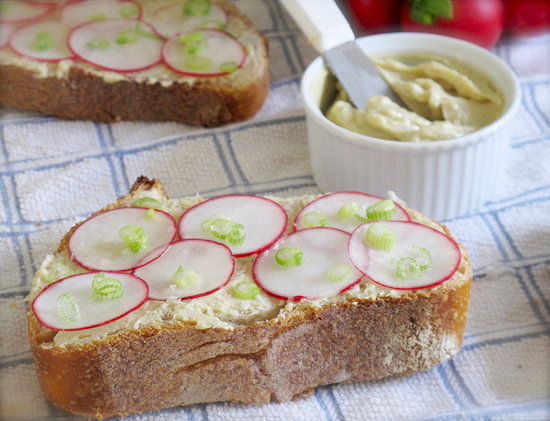 When it comes to preparing Spring produce, my favorite executions are always the simplest ones. I love snacking on raw vegetables with a
bagna cauda
sauce of anchovies, garlic, and olive oil, and my favorite French snack is fresh bread slathered with good-quality salted butter, then topped with radish slices.
Why, I wondered, can't I combine the two? So I did. The result is something akin to a Spring garlic bread. It's soft in the middle and crusty around the edges, with a little pepper from the radish slices, a lot of bite from fresh garlic and Spring onions, and a certain je nais sais quoi, thanks to the anchovies.
I like to slice the bread and vegetables thinly for a delicate bite, or on the thicker side when I'm in the mood for something a bit more rustic. For a Spring snack that's all elegance and simplicity, keep reading.