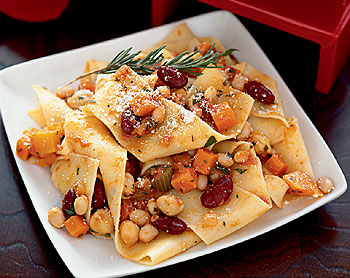 I'm not a
recession flexitarian
yet — but my goal is to make today a
meat free Monday
. It seems easier for me to go light on animal protein at lunch, but dinner, my biggest meal, will be more challenging.
Not to worry: I found a hearty, meat-free alternative last night, and today, I'll be using the leftover beans to make an equally substantial Italian bolognese.


The herbed tomato sauce doesn't need beef to be satisfying — instead, I'll use meaty legumes and butternut squash. See the recipe when you read more.