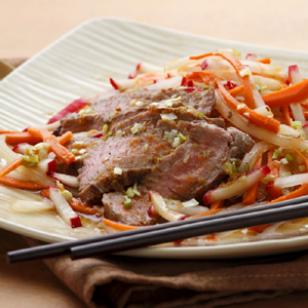 Juicy
sirloin steak
is famously delicious in a burger or a stir-fry, but if you're looking for a quick, fresh take on the cut, opt for something different, like a Japanese-style beef tataki.
If you've never had it, tataki is a Japanese cooking preparation that involves flash-searing meat or fish and serving it infused with a soy and ponzu sauce.
For a complete meal, offer this speedy beef-and-vegetables meal over a bed of steamed rice or cooked soba noodles. Get the recipe now.