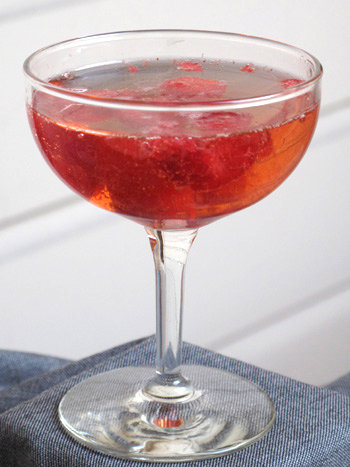 The antidote to a solemn Summer, I recently learned, is liberating oneself with a
spur-of-the-moment trip someplace new
. That, and finding ways to celebrate even the minor details in life.
Over the weekend, I popped open a bottle of bubbly to commemorate the small fact that we'd finally gotten around to revamping the apartment. (Casa would be proud.) To liven up our glasses, I tossed in some leftover blackberry Calvados, grenadine, and our fruit of the month, raspberries.
The cocktail's vibrant jewel tone and floral bouquet were the perfect accoutrement to an unusually warm afternoon.
Are you, too, hoping for your share of the splendor, regardless of the occasion? Then get your hands on the recipe.