It's the time of year to look back and reflect on accomplishments — and the stuff that didn't really go so well. We're focusing on the positive side of things by counting down our top 18 posts shared on Pinterest. From helpful tips to easy DIYs, we're so happy you enjoyed the top-pinned content this year. And don't forget to follow us on Pinterest for more awesome posts in 2014!
18. Eco-Clean Your Sheet Pans
With just over 2K pins, this eco-friendly cleaner tackles baked-on pots and pans without abrasives or chemicals. Simply mix together, coat pans, and wipe clean.
17. Easy Sharpie Mugs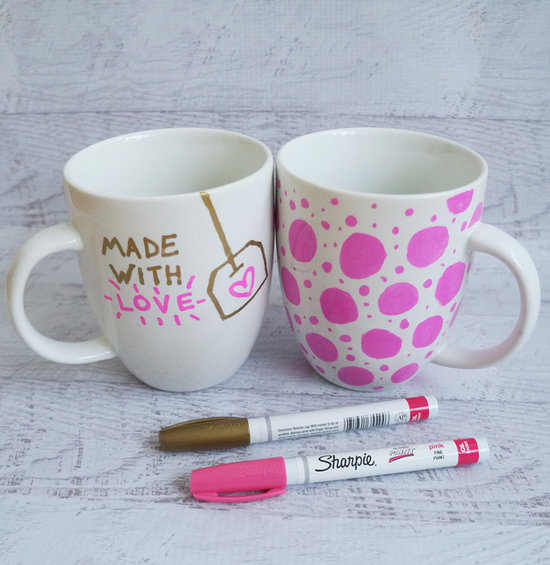 We love how this easy DIY is also a fun way to decorate mugs. Follow the easy directions for creating your own personalized coffee cup that is dishwasher safe — and will have you smiling every morning.
16. Tub and Tile Rock Star
This eco-friendly cleaner makes your bathroom sparkle — and basically costs nothing to make. You can't beat that.
15. Sparkling Bling
We totally get why this post has racked up so many pins! Make for your bridesmaids, your best friend's birthday, or just for yourself. Check out the simple directions for this easy bracelet bangle.
14. Coffee-Filter Soap
Don't toss your coffee grounds! Use them to make this invigorating soap that makes a great gift for any coffee-lover.
13. Lotion Bars
Once you make these lotion bars, you'll want to make another batch for your best friend, another batch for your mom, and then another batch for your work mate.
12. Sweet Dreams
We totally get why this post has over 3K pins! Who doesn't dream of a good night's sleep? This sleep salve helps calm the body, easing you into a blissful slumber.
11. Keep Things Clean
With over 3K pins, these helpful eco-friendly cleaning wipes do a great job of wiping away messes while looking so chic on your kitchen counter.