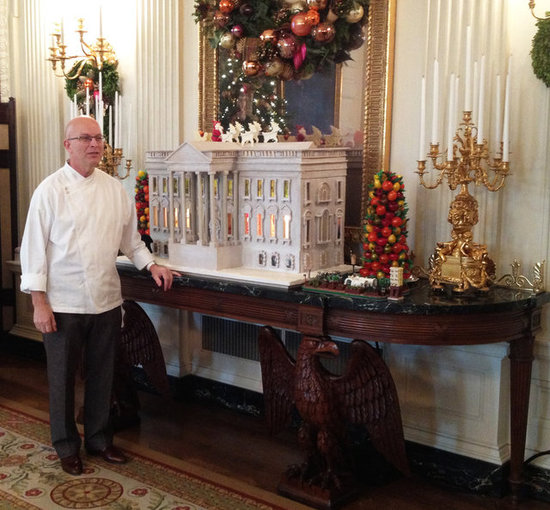 If the idea of building a basic gingerbread house sounds daunting to you, try building a 300-pound gingerbread replica of the White House. That's exactly what presidential pastry chef Bill Yosses has been busy doing for the past several weeks, as we discovered when we had a chance to
tour holiday decorations at the White House
.
The 300-pound replica of 1600 Pennsylvania Avenue — which features reindeer on the roof, an edible vegetable garden, and Bo Obama playing outside the front lawn — was one of the highlights of our tour of the White House and its holiday festivities. Although a similar house is re-created annually, each house varies from year to year, so we spoke to Chef Yosses about how the creative process works, and why this house was different.
YumSugar: When do you begin designing and creating the White House gingerbread house?
Bill Yosses: Mrs. Obama meets with her staff in July and they begin to talk about different proposals, what they would like to have as a theme, and how they would like to see the decorations. At that time, we sent a note up, and asked if we could do something different this year; I proposed this bread that looks like stone. She said, "Yes, let's try it, let's see what happens." We're all happy with how it came out.
YS: So you do a house every Christmas?
BY: We do a house every Christmas. We do different aspects [of the White House]: the north side, the south side. This tradition has been here since 1969 and other houses have been used, but we've kind of settled on the White House and different versions of it. We're celebrating the craftsmanship of those who built the house itself because the stone was quarried not far from here.
Learn more about the miniature White House — including how long it takes to come together! — when you read more.