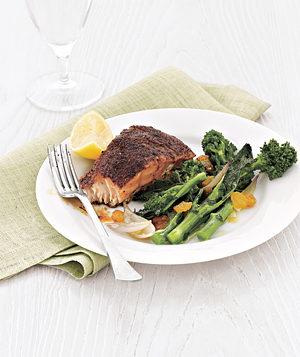 After several consecutive weeks of too much celebrating, I'm trying to focus on eating healthful, clean meals. Tonight, I'm taking advantage of salmon left over from last night's dinner and pulling together a light, Cajun-inspired dinner that'll be ready in twenty minutes.
Blackened fish is so easy that even my kitchen-averse boyfriend is able to make it. The key to the dish's healthy flavor is not too much oil and lots of Cajun seasoning, a dynamic mix of seasonings such as salt, garlic, cayenne, chili powder, onion, and paprika. Fill up by pairing the sautéed broccoli with some roasted potatoes.
For a healthy yet satisfying supper tonight, read more.