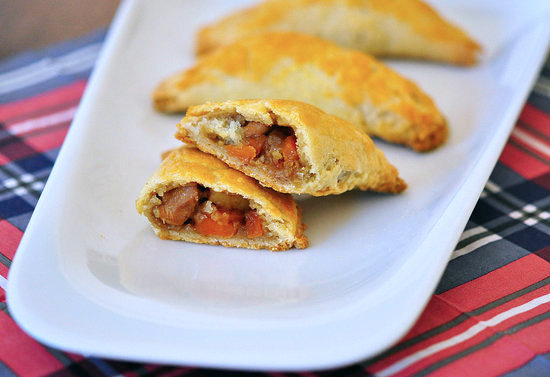 If you're going to
start exploring British fare
, then look to one of our
favorite UK chefs
,
Jamie Oliver
, for modern and healthier takes on classic British dishes. At the top of my baking list is a British staple, the Cornish pasty, which is similar in flavor to the American pot pie, except a dish is not required.
Pasties are often served as a main dish, but I opted to make them as the perfect appetizer, so I cut the pastry smaller to make a perfect hand-held starter. You could experiment with other meat and vegetables depending on what is season. While the traditional Cornish pasty is a flaky half-circle of crust stuffed with beef, potatoes, yellow turnips, and onion, this recipe is a lighter with chicken, butternut squash, and carrots.
Can't visit the British Isles? Don't worry. Just bring them to you with this easy and comforting recipe.