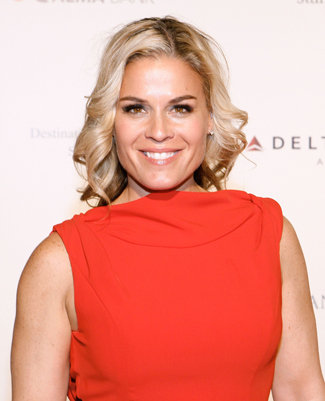 Nearly as big as the highly anticipated Oscars on Feb. 26 is Elton John's AIDS Foundation Oscars party, hosted annually by the musician and his husband, David Furnish.
Guests at this year's fête will be fed courtesy of Cat Cora, who'll be pulling out all the stops with an all-out global-inspired menu. I spoke to the Iron Chef about what she's making for this bash (and her tips for hosting your own Oscars viewing party at home!), as well as what's in the pipeline for her this year (hint: it involves several restaurant openings and a new show on Bravo!).
YumSugar: What's on the menu for this year's Oscars party?
Cat Cora: We're going to do a fantastic Italian salad — a tricolore, with arugula, some beautiful endive, and radicchio, composed with a pureed pistachio vinaigrette — just to start off nice and light. Then we're going to offer a baby tomato and bocconcini salad with a Bloody Mary vinaigrette, sesame-encrusted lamb meatballs, a filet tenderloin of beef, and a really good sea bass choice. We'll finish things off with a silky chocolate dessert or a pear and apple tartlet. It's going to be really over-the-top.
YS: Who are you most excited to run into?
Find out the answer — and more on Oscar-night party planning — when you keep reading.