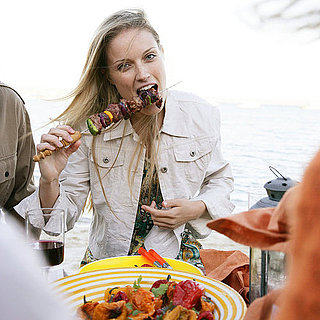 The
Paleo Diet
, or Caveman Diet, is gaining momentum in the fitness world as a healthy way to lose weight. My trainer is all about the Paleo Diet — a meal plan based on the dietary habits of our Paleolithic, cave-dwelling ancestors. We're talking wild game, meat, and seafood, and vegetables, fruit, seeds, and nuts. What you won't find as part of the Paleo Diet are foods that developed during the agricultural and industrial eras like grains, dairy, legumes, refined sugars, and any other processed foods.
Given the Paleo Diet's low-carb leanings, it makes sense that it's gaining popularity as an effective way to lose weight. On the calorie meter, protein, vegetables, and fruit give a lot of bang for the buck, and the elimination of grains, refined sugars, and legumes can dramatically drop a person's daily calorie intake. The big question is whether or not the Paleo Diet is healthy and can be sustained for the long run.
Keep reading to find out if the Paleo Diet is a healthy solution to weight loss.