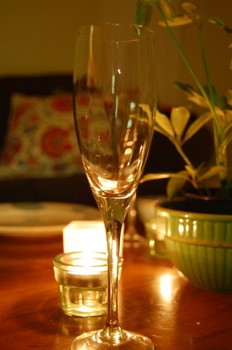 With a lot of help from
Fab
, we told you how to get the
after-dinner look
for
Valentine's Day
night, but first — well, really it can go in any order — you must eat.
Yum has already mapped out a romantic dinner for two, named the healthiest aphrodisiacs, and compiled everything you need to know about chocolate, the ultimate aphrodisiac, but delicious menus aren't recipes for perfect nights. Susannah Chen, associate editor of Yum, gives us her advice for a stress-free Valentine's Day dinner.
"Rule No. 1 — dine at home! Unless a restaurant is offering something truly special that night (and chances are, they aren't!), skip the overpriced prix fixe and eat at home, whether that means cooking together, making dinner for your sweetheart, or ordering your favorite takeout with some nice wine. There's nothing more romantic than feeling like the two of you are the only people in the room — and that's not going to happen in a crowded, overpriced restaurant packed full of lovers making eyes at one another."
"Create a plate that's meant for two. Sharing food can be very sexy. Remember Lady and the Tramp?"
"This one's from my favorite sommelier, Eugenio Jardim, at Jardiniere in San Francisco. It's simple but brilliant: Stay away from wine bombs like New World Cabernet Sauvignon or Zinfandel, which can be upwards of 14 percent alcohol. A lighter alcohol content means the two of you won't be ready to pass out before dinner's over."
Read the rest below.