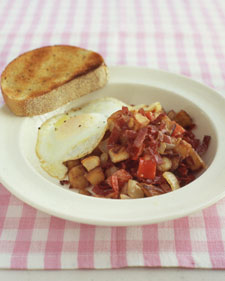 Ever since I was little and my mom would make "breakfast for dinner," I've been a fan of enjoying classic breakfast items at night.
Today, to celebrate St. Patrick's Day, why not make the hearty brunch favorite known as corned beef hash? It's traditional meat and potatoes at its best, and when topped with a perfectly poached egg, it makes a fine meal.
Serve with a cold beer and mixed greens for a festive and satisfying dinner. Get the speedy recipe after the jump.