There's something I need to get off my chest: I use canned crabmeat when making crab dip. If I'm going to dilute the flavor of the crab with cheese, herbs, and mayonnaise, why not use the canned variation?
My favorite canned crab is the kind they sell in the refrigerator section of Costco. It's fresh and full of meaty chunks of crab perfect for crab dip. Although I love a hot, bubbling crab dip, when tailgating, it's easier to serve cold crab dip.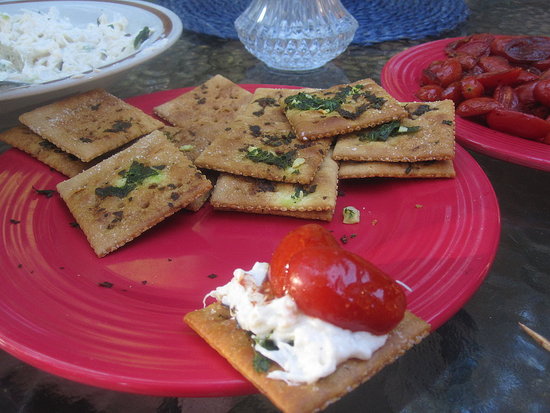 This recipe from Tyler Florence pairs the chilled crab dip with herbed saltines and roasted tomatoes. Having tried these elements, let me tell you a secret: they're unnecessary! The dip is simply sublime on its own.
No fussy saltines or cherry tomatoes necessary. Seriously, my guests agreed, the creamy, tangy dip is so scrumptious by itself, you'll want to eat it with a spoon. Get the easy preparation method, after the break.