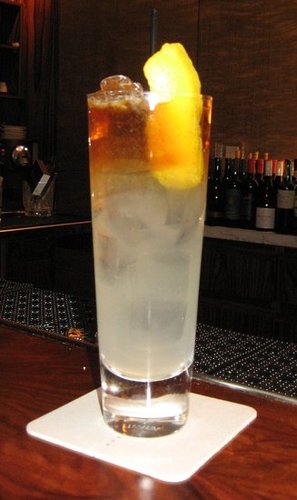 If you're a fan of Beefeater, you should definitely get your hands on the brand's latest release,
Beefeater 24
. The artisan gin, that's made in London, features 12 specially selected botanicals, including a rare Japanese tea and Chinese green tea. The spirit is brewed for 24 hours, hence the name. Unlike classic Beefeater, the 24 is distinctly smoother and more complex with a slightly floral aroma. It makes an excellently drinkable gin and tonic and an elegant rickey.
I recently enjoyed Beefeater 24 in a cocktail named for its creator, master distiller Desmond Payne, at Clock Bar in San Francisco. Crafted by one of my favorite bartenders, Steven Liles, this drink is full of tart citrus flavor. The combination of elderflower liqueur, lemon juice, bitter lemon soda, and Pimm's does not overshadow the Beefeater 24. Instead, it enhances and balances out the gin, resulting in a drink that is intricate and refreshing.
To look at Steven's recipe, read more