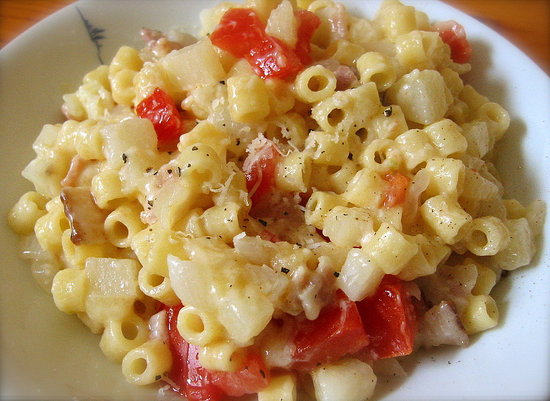 I don't take advantage of them too often, but lazy Saturdays are the best. Not only because I'm at home enjoying doing nothing, but also because my favorite shows on
KQED
, San Francisco's public television station, all happen to be on:
Check, Please!
,
Made in Spain
,
Lidia's Italy
, and
Secrets of a Chef
.
Recently the boy and I were watching an episode of Lidia's Italy in which she prepares a Neapolitan version of mac and cheese. Her recipe called for ditalini in lieu of macaroni, smoked provola instead of American or cheddar, and bacon, potatoes, and diced tomato. We sat there in captivation, practically smelling the sizzle of smoked bacon vaporizing in our living room.
We were so tantalized that we drove to the grocery store to make it immediately, with the notes I'd taken while watching the show as our guide. It tasted just as good as we'd hoped. Later, I got my hands on the book for the written recipe. Want it? Read more.