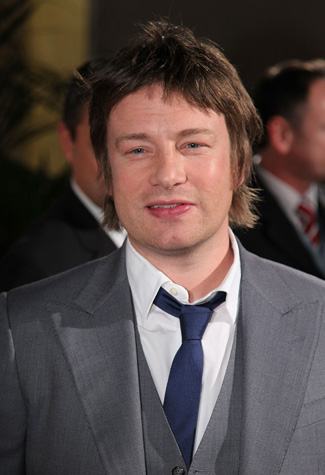 The impact of
Jamie Oliver's Food Revolution
can't be declared revolutionary, at least not yet. The British chef got plenty of accolades, including an
Emmy award
, for his American show, which helped to overhaul the eating habits of Huntington, WV, schoolchildren. But a year later, food distributor US Foodservice
has withdrawn its funding
for the West Virginia school district's "good food" cause.
This is just the latest snag in Jamie Oliver's American crusade. After announcing plans to film season two of Food Revolution in Los Angeles, he was first turned down by the city's school district, and later challenged to propose three weeks of school menus that fit a 77-cents-per-serving budget.
Thankfully, judging by the chef's tweets, he hasn't given up just yet. But with so much on his plate (including a brand-new British TV project announced today), it's hard to imagine he can truly effect change with America's obesity epidemic. Do you think Jamie Oliver's food overhaul still holds promise?