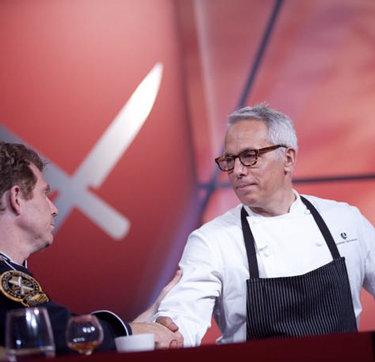 Those of you who've tuned into the Food Network at all in recent days might have heard that the last season of
The Next Iron Chef: Super Chefs
has just wrapped, and a new champion has emerged victorious out of the
star-studded
(and highly competitive) lineup.
That would be Geoffrey Zakarian, guest judge of Food Network's Chopped and chef and owner of The National and The Lambs Club in New York City and Tudor House in Miami.
I had a chance to catch up with the chef over the phone, where he revealed his thoughts on why he won, how he hopes to set himself apart from the others on Iron Chef America, and what he always makes for the holidays.
YumSugar: You had a very serious expression on your face when the final outcome was revealed. What was your first thought when they announced you as the winner?
Geoffrey Zakarian: Well, they actually didn't call my name, which was sort of confusing, because whenever anyone got kicked off, they would actually say, "You will not be the next Iron Chef." But I was stunned, shocked, and relieved; there was a real sense of accomplishment.
Zakarian on his toughest Next Iron Chef moments, and his upcoming Kitchen Stadium challenges, after the jump.