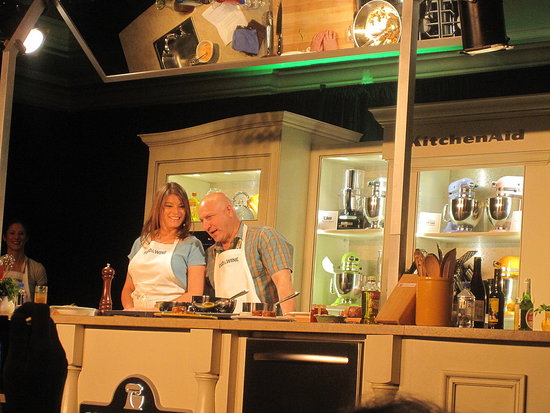 Like
last year
,
Top Chef
judges Tom Colicchio and Gail Simmons joined forces to host a seminar at the 28th annual
Food & Wine Classic
. Since I'm a huge fan of the show and enjoyed their lively banter in the previous demo, I was excited to see what the dynamic duo would cook up. This time, they were inspired by one of the magazine's regular features,
Chef Recipes Made Easy
.
They chose three ingredients: merguez sausage, garbanzo beans, and harissa, and each made a distinctly different dish. Tom's was the chef's way: an elaborate preparation that involved homemade sausage, stuffed leg of lamb, and fresh garbanzo beans. Gail created something more accessible to the home cook with store-bought sausage and canned garbanzos. As they cooked, they chatted; to see some tips I picked up from Tom and Gail, read more