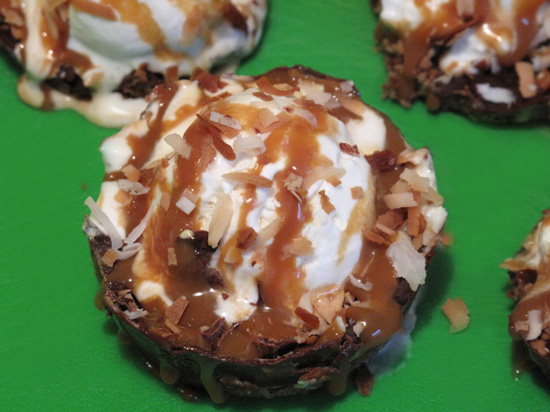 There are a few bright spots in every Winter, namely the following, in no particular order: snow sports, the
Super Bowl
,
hot cocktails
, and Girl Scout cookie season. But sadly, my attempts to track down cookies this year have been in vain, as I haven't seen so much as a single Daisy, Brownie, or Junior anywhere in the Bay Area.
To remedy the situation, I took matters into my own hands with a homemade variation of the Caramel DeLite, or Samoa, the Girl Scout cookie to end all other Girl Scout cookies.
This version, if I must say, is even better than the original. It starts out with a tartlet base of brown sugar, chocolate, butter, and toasted coconut, then gets the royal treatment with a scoop of coconut ice cream, dulce de leche, and more toasted coconut. The only drawback? They'll be gone in seconds. For the recipe, keep reading.