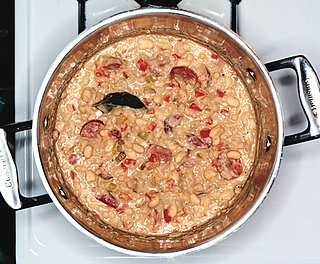 I've always
cooked with canned beans
over higher-maintenance dried beans, but after seeing PartySugar make a
beef chili
that required no preliminary bean soaking, I decided it was high time I followed in her footsteps.
The perfect place to start? A simple, yet flavorful Cajun stew of andouille sausage, veggies, and Great Northern beans that requires no soaking whatsoever.
Just pop it into the slow cooker, wait four and a half hours, and serve! I'll enjoy it with some dirty rice and sautéed greens. Interested? Then keep reading.