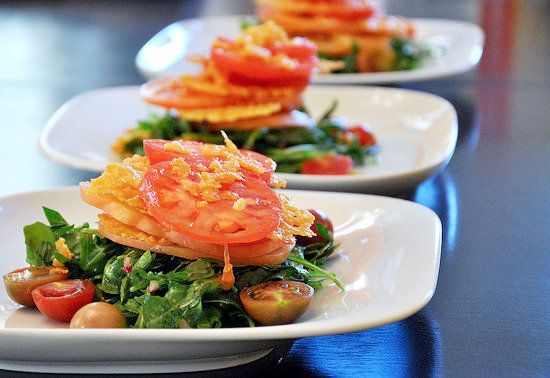 The minute tomatoes appear at the farmers market, I eat a
Caprese
salad nearly every week. It is one of those dishes that exudes Summer flavor. Recently, I was thrilled to find a new twist on the classic that incorporates parmesan crisps and heirloom tomatoes on a bed of herbed salad.
This salad is very simple to make and could easily be prepped in advance for a dinner party; then, quickly assemble to impress your guests — that's what I did. Watch the parmesan crisps when baking: just as mine started to turn a lovely golden color, they began to smoke. They weren't burning, but smoking enough to set off my smoke detector!
The herbed salad with Champagne vinaigrette and complex greens complements the ripe tomatoes and irresistible parmesan crisps, creating a perfect Summer salad. To try something new with colorful heirloom tomatoes, keep reading for the recipe.