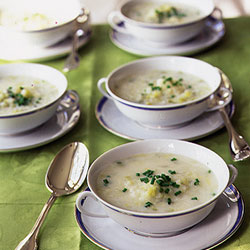 The season's cooling off, and it's the end of another chaotic week; slow down and take the time to nourish yourself with an uncomplicated potage parmentier. After all, even the legendary Julia Child held an appreciation for this humble yet warming soup.
Begin with little more than a few loose ends from the larder: chopped leeks and clean potatoes. Simmer the broth until tender, break potatoes apart into rustic pieces, and serve seasoned with just a splash of heavy cream, salt and white pepper, and fine herbs.
To add a little more protein to the dish, crumble a little cooked, crispy bacon, prosciutto, or pancetta on top. The result? A soul-satisfying soup that's not overly heavy. For the recipe, keep on reading.