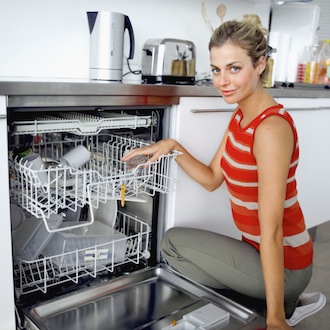 Now that we've covered the question of what is dishwasher-safe, I thought I'd move on to an equally important subject: how to load your dishwasher. The task may seem like a no-brainer, but you'd be surprised by how many people earn a capital F in Dishwashing 101— I'm talking to you, roommate. It also may seem like a trivial matter to some of you; as long as you can fit all the dirty plates in, it's OK, right? Err — no. The way you arrange your pots and spoons not only affects how well they're cleaned, but can be a deciding factor in whether they become tarnished, chipped, or even broken. So here's the lowdown on loading:
Arrange your dishes by height, placing the larger ones on the outside. Turn all of your plates and bowls to face the middle of machine/dish drawer.
Put wine glasses and other delicate glassware and dishes on the top rack. Face glassware downward if they fit, and leaning diagonally across two rows if not.
Place small, round cereal bowls face-down on the top rack.
Put pots, pans, and other heavy-duty dishes (like serving platters) on the bottom rack, where the water pressure and temperature are higher.
Separate stainless steel and pure silver; if they touch, a chemical reaction can cause pitting and tarnishing.
Continue reading for more of these tips — and a few on unloading!