Our mouthwatering Brain-Boosting Breakfast series continues with celebrity chefs and restaurateurs creating healthy, brain-boosting breakfast ideas to help keep kids going throughout the day.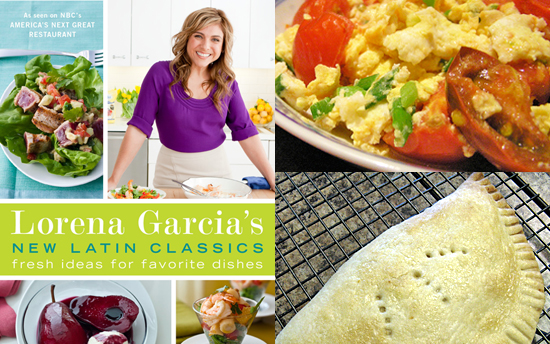 Eating healthy doesn't have to be boring for adults or little kids. Lorena Garcia, one of the nation's leading Latin chefs, has touted this belief everywhere from Univision Radio and
The Today Show
, to
America's Next Great Restaurant
. As the founder of
Big Chef, Little Chef
, a program designed to help kids and their families take control of their eating habits, Chef Lorena knows a thing or two about giving tots a healthy start.
To help lil' ones head off to school with full stomachs and rich minds, she's offering up two recipes from her New Latin Classics: Fresh Ideas for Favorite Dishes ($22) that are surefire hits. She said, "These crescent-shaped Spinach and Goat Cheese Empanditas are a high part of South American tradition. The spinach, which is high in iron, will help keep [kids] focused and full throughout the day. These can be prepared before and put into the fridge or freeze for eating when desired. Huevos Pericos [are eggs] scrambled with onions and tomatoes, and then lots of cilantro and scallions are added. This quick egg dish offers unique flavors for the morning that will not only wake taste buds but also, your brain!"
Keep reading for Lorena Garcia's recipes for Spinach and Goat Cheese Empanditas and Huevos Pericos.