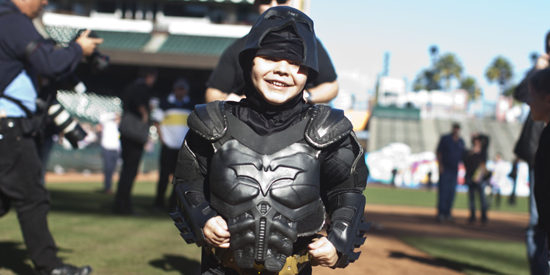 Is
Ben Affleck
worried about the Batman competition? On Friday, #Batkid became a top trend when San Francisco transformed into Gotham City to fulfill the wish of 5-year-old Miles Scott, a child who's battled leukemia for years. The adorable, heart-melting
Batkid Make-a-Wish
day had San Francisco locals gathering all over the city to support Batkid, and several celebrities took to social media to root for the little one, too. And now the
San Francisco Chronicle
is out with a video recap of the special day that will let you relive the magic wherever you live. Watch it below and then take a look at all the famous faces who couldn't get enough of the sweet Batkid story, from actors who have played Batman to President Barack Obama.


Even Batman couldn't have done better than Batkid.
Batkid. Best Batman ever. #SFBatKid #MakeAWish @SFWish

— Ben Affleck (@BenAffleck) November 16, 2013


During an interview, Christian Bale was over the moon about the whole thing:
"Wasn't that fantastic? I looked on the news and I saw this headline and thought, 'What's that?' And I saw all the pictures of him running around and saving people. It's so touching. He must have been bewildered! Hopefully, later on, he'll be able to look back and say, 'Oh my God, how amazing.'"


We're pretty sure Anna Kendrick speaks for all of us.
Just read about #BatKid and I am IMMEDIATELY in tears. Go #BatKid!

— Anna Kendrick (@AnnaKendrick47) November 15, 2013


Batkid needed all the help he could get. Thanks, Val!


See the rest of the cute celebrity reactions after the jump.