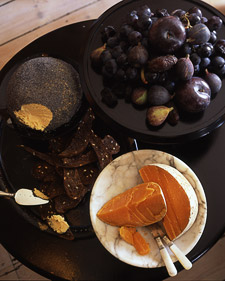 From 2003 to 2006, every October I hosted an annual
pumpkin carving party
. In 2007, I threw a
huge Halloween bash
, and last year, I didn't do anything!
Now, I've decided it's time to bring back my beloved pumpkin carving dinner. I supply the pumpkins and a hearty Fall dinner and ask everyone to bring a bottle of wine or a six-pack of beer. Since the party is all about creating interesting pumpkin designs, I like to serve a menu that guests can enjoy at their leisure.
For starters, I'll offer an orange and black cheese ball and spicy sausages wrapped in pizza dough.
A huge pot of vegetarian chili will bubble on the stove, and in between carving pumpkins, guests can grab a bowl and top it with an assortment of items like cilantro, avocado, and sour cream. A side of jalapeño cornbread muffins are ideal for dipping. To look at these recipes, read more