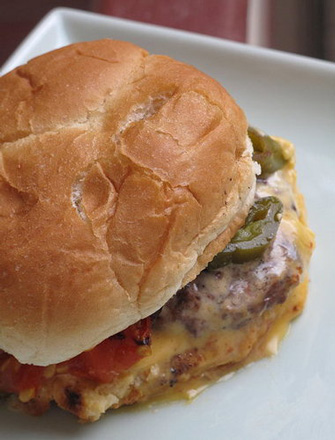 A week later, I'm still dreaming about the Savory Sight of a jalapeño nacho cheeseburger from Urbun Burger that reader Mee-shell uploaded to the YumSugar Community. In fact, I was so enamored, I must have gone back to look at that picture at least five times, so I ultimately decided I had to have it.
I would've hit up the San Francisco-based burger joint where said cheeseburger was from, but they told me they no longer carry the jalapeño nacho cheese, so I took it upon myself to make my own version of the burger, adding slices of grilled tomato. It was so insane that I wolfed down the behemoth in less time than it took to grill it!
The end result was like a fusion of a juicy hamburger and stadium nachos — and it doesn't get more all-American than that. When making this, bear in mind that oozy, melted Velveeta doesn't wait for you — so you must eat this burger right off the grill, and keep napkins handy. For a 4th of July crowd-pleaser, read more.