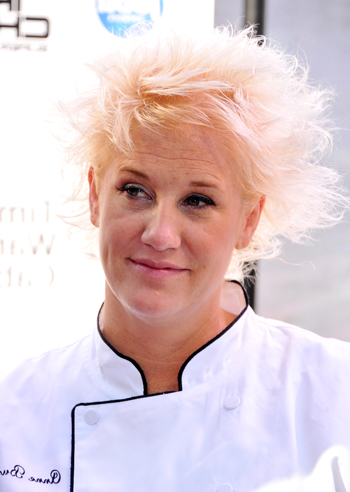 Food Network personality Anne Burrell has come a long way since appearing as Mario Batali's sous chef on Iron Chef America; this coming Sunday, Oct. 30, she'll have come full circle, appearing as a contestant herself, as part of the star-studded cast of Next Iron Chef: Super Chefs.
Earlier this month, we sat down with the brazen blond chef to ask her a few questions about appearing on the show's upcoming fourth season, her brand-new cookbook, and what she's seen on her other show, Worst Cooks in America.
YumSugar: Was the whole experience filming Next Iron Chef emotional?
Anne Burrell: It's all so emotional, the roller coaster, the ups and downs of all of it, beyond words. I was really shocked about how much it got to me. When the whole thing was said and done, I couldn't believe how much of it stuck with me. I thought about it, I went over it, I rehashed it, all of this stuff, the highs and lows of the season, stayed with me for weeks.
After the break, more of Anne on Next Iron Chef: Super Chefs.