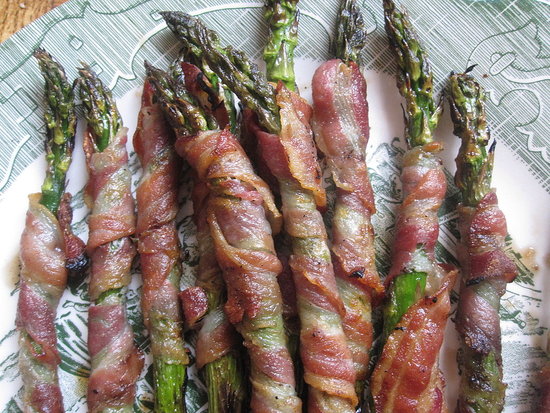 During the Spring,
prosciutto-wrapped asparagus
is a very popular appetizer. While I've enjoyed it many times, I recently experienced a mind-blowingly better combination of pork and plant. I'm talking about grilled pancetta-wrapped asparagus.
Most recipes for the prosciutto variation cook the asparagus in the oven or boiling water. This version throws it on the grill — which imparts a rich smoky flavor that's unattainable from roasting or blanching.
Ham-like prosciutto doesn't have to be cooked, but pancetta, which is similar to bacon (and everyone knows bacon is ten million times tastier than ham), can not be consumed raw. Thus, the resulting dish is crispy, juicy, meaty, and downright perfect. It's a serious must make, so get the recipe now!