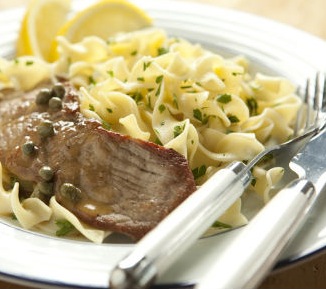 Now that I know where to find
humanely-raised veal
, I'm going to start experimenting with this meat more in the kitchen. Tonight, I'm whipping up an Italian classic, veal piccata.
It starts with flattened meat that's flashed in the pan, then served with a sauce made from butter, capers, lemon, and pan drippings. If you're not a fan of veal, you can substitute another type of protein, such as turkey paillards or thinly pounded pork tenderloin.
Serve the piccata over a bed of steamed egg noodles, and a crisp white wine on the side. For a gourmet Italian dinner in minutes, read on.