After a stretch of warmer weather, a cold spell blew over the East Coast. Instead of feeling bitter about bitter cold temps, I baked one last batch of pumpkin bread, as a last hurrah to say goodbye to Winter. I was also excited to use the boxed organic puréed pumpkin I discovered at my local health food store, made by Fig Food Co., in packaging that's completely BPA-free.
I make pumpkin bread often, but this is the first time I experimented with adding rolled oats. Aside from increased fiber, the oats brought an interesting, chewy texture, making this bread slightly denser and more filling than my usual batch. Toast a slice of this oatmeal pumpkin spice bread and spread on some organic peanut butter for a satisfying breakfast, or it's even sweet enough to enjoy for an after-dinner treat.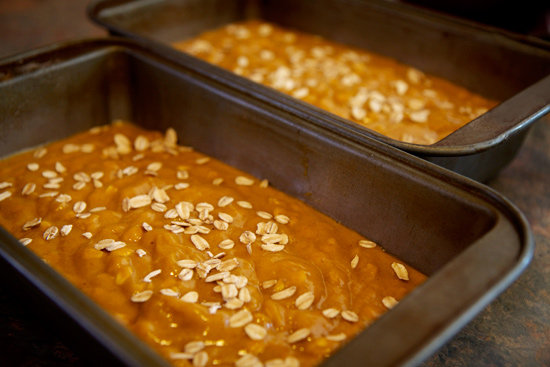 Continue reading to find out how I reduced the fat in this recipe and how many grams of protein are in each slice.