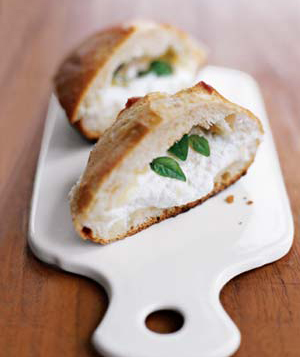 Sometimes the most satisfying meals are the most simple. Look at the grilled cheese. The ingredients — toasted bread, sliced cheese, a pat of butter — are humble, but the completed sandwich is a classic culinary masterpiece.
With impromptu holiday parties and last-minute gift-shopping, treat yourself to an elegant, uncomplicated, and oozing cheese sandwich. Instead of crisping the sandwich on the stove, this effortless recipe lets the oven do the work.
Serve with roasted tomatoes and a glass of bubbly to salute the season. The recipe: after the break.