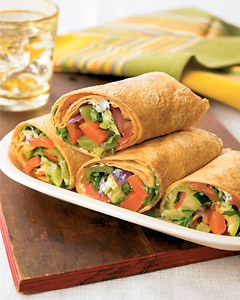 If you're looking for a simple but versatile vegetarian recipe, stop your searching! This roasted vegetable wrap recipe is quick, uncomplicated, and totally adaptable.
All you do is roast some veggies, layer 'em in a wrap, fold, and voilà, dinner is done. Use whatever vegetables you prefer and if you dislike mayonnaise, skip the garlic mayo step.
For additional flavor and heft, consider adding in cheese, fresh herbs, or beans. Learn the method that you'll use over and over again after the break.