Looking for a quick, easy, and enticing way to incorporate more vegetables into your life? Roasting may very well be just the solution you need. Not only does the blast of high heat cook vegetables to fork-tender in next to no time, but it also magically caramelizes the edges, making each bite slightly sweet and all the more enticing.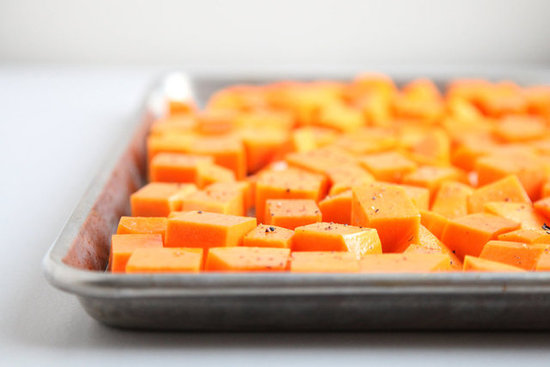 Little more than a bit of prep work and roughly 20-30 minutes of cook time separates your meal from the addition of a brightly colored, mouth-watering, and rather healthy side. And while methods vary slightly from vegetable to vegetable, follow these general guidelines:
Preheat the oven: Aside from tomatoes and other delicate produce, which shine when slow-roasted at a lower temperature (try 200°F), most vegetables benefit from a blast of high heat, as it promotes browning and caramelization; generally, 400-450°F is a good place to start.
Prep the vegetables: Usually this just means a quick scrub with a vegetable brush and a rough chop (1-inch cubes is pretty standard), but some produce like Winter squash requires a bit of peeling and even the removal of seeds but is still very easy to prep. For oddballs like brussels sprouts, trim off the woody stems, peel away any dried-out and tough outer leaves and halve the tiny cabbages so that they have a flat surface to rest on (flat surfaces allow the most pan contact and browning). Smaller root vegetables like carrots can be left whole (just trim off excess carrot tops).