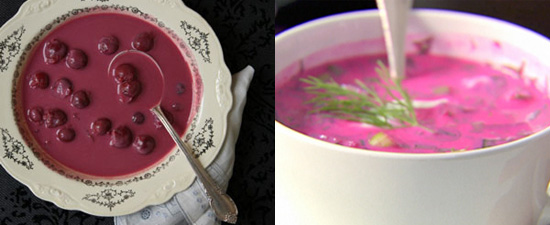 If you're
a fan of cold soups
like I am, I'm sure you'll agree they're the perfect midday refreshment during one of Summer's heat waves.
Although gazpacho takes a lot of credit for its cooling properties, don't discount other traditional warm-weather favorites, like the chilled version of the Eastern European soup known as borscht. The soup's beets, aside from having a nice depth of flavor, also provide a powerful flash of fuchsia color.
Not to be overlooked are the season's ripe fruits for sweet soups as well. If you're already serving borscht, why not create an ultra-playful menu by also serving a blush-hued soup for dessert? Offer another Eastern European favorite, Meggyleves, made from sour morello cherries. For both recipes, keep reading.