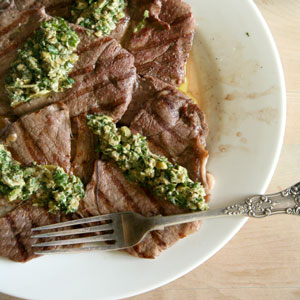 For an elegant but relaxed approach to tonight's dinner, serve grilled steaks with a sauce vierge.
This light and pungent sauce, which literally translates to "virgin sauce," is the Frenchman's rendition of Italy's salsa verde. Although the traditional elements, like capers, parsley, olive oil, and garlic still play a starring role, so do Provençal ingredients such as cornichons and Dijon mustard. As you allow all of the elements of the sauce to commingle, start heating up the grill to work on the steaks.
If you need to accommodate pescetarians, serve the fresh sauce on top of seared tuna or swordfish steaks for an equally tasty supper. Ready for the recipe? Then keep reading.