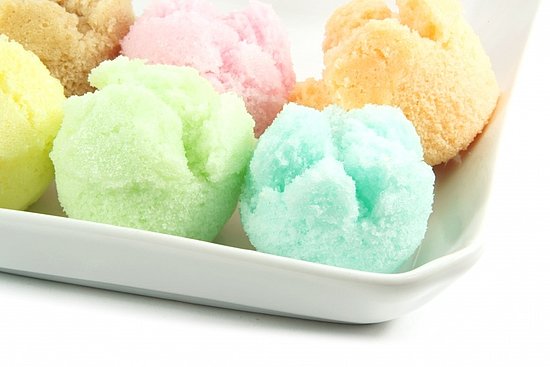 Spotting a wide array of frozen desserts at this year's Fancy Foods Show reminded me of a burning question that hasn't melted away: Are sorbet, sherbet, and sherbert all the same?
Despite the fact that the legal definitions of sorbet and sherbet could be used interchangeably, there is a distinction among American frozen dessert manufacturers. Sherbet — which is alternatively spelled sherbert — is a frozen fruit and dairy product that contains anywhere from 1 percent to 3 percent milkfat from milk or cream. Anything above 3 percent is generally labeled ice cream; anything below 1 percent is referred to as water ice.
On the other hand, sorbet generally implies a fruit-based frozen dessert with little to no dairy — although the use of the term sorbet is unregulated. To add to the confusion, in other parts of the world, sherbet may refer to a fizzy powder stirred into beverages, or a beverage made of diluted fruit juice.
Got a burning question? Join the Burning Question group in the YumSugar Community! It's your place to post the most pressing questions about the culinary world.