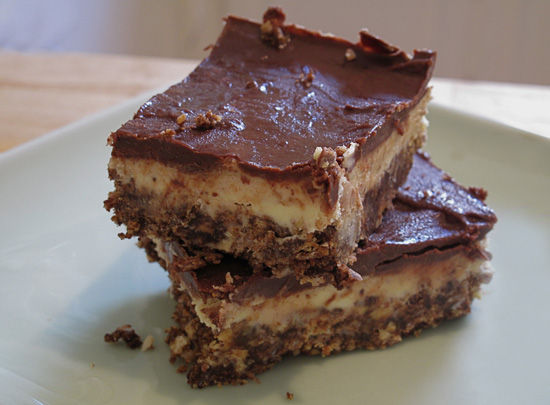 This week, I set out in search of dishes that would commemorate the Vancouver Games. Besides some Montréal items like poutine, I wasn't having much luck with Canadian-born dishes. Then I stumbled upon a specialty known as the Nanaimo bar. The no-bake chocolate square was born out of the domestic housewifery of the 1950s.
One legend recounts a home cook from Nanaimo, Vancouver Island's second largest city, entering her chocolate squares in a magazine contest and naming them after her hometown. Another story is that homemaker Mabel Jenkins entered her recipe to a fundraising cookbook, and it soon spread like wildfire around the local communities.
Regardless of how it came to be, this extremely fudgy and chocolately no-bake dessert is considered British Columbia's favorite native treat. For a triumphant Northern dessert that really hits the sweet spot, read more.