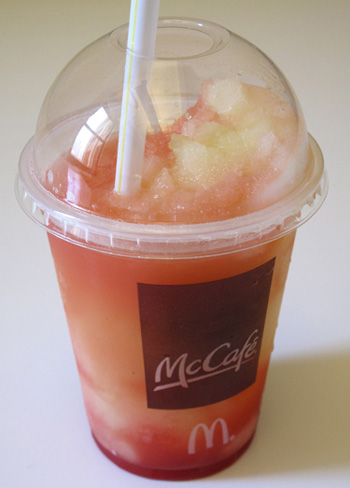 Who's ready for summertime? McDonald's is. Just ahead of Memorial Day, it's added a new
Frozen Strawberry Lemonade
to its McCafé lineup. "It's a little bit of brrrrrrrrrr mixed with a whole lot of mmmmm," the fast food chain called out. Of course, on the warmest of Spring days, we couldn't resist giving this new product a whirl.
Here's how the frosty beverage comes together: McDonald's starts with a lemonade base (made with, among other things, lemon juice, orange juice, and lemon oil), then pulverizes it to order with ice and strawberry syrup (consisting of ingredients such as strawberry purée and artificial flavor and color).
At $1.59 plus tax and 210 calories for a 16-ounce cup, it doesn't do too much damage to your calorie bank — or your real one. But what about your taste buds? Find out right this way.