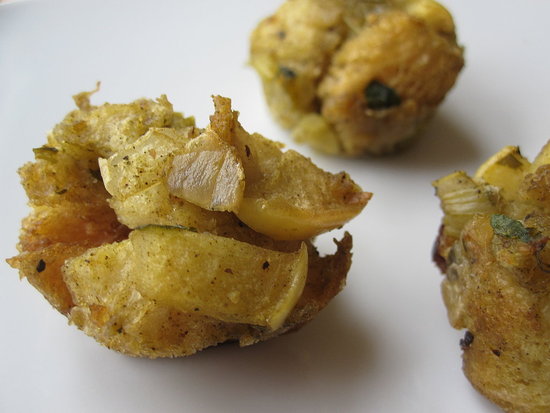 After the turkey, nothing says Thanksgiving quite like stuffing. The delicious combination of moist bread and seasoned vegetables is unlike any other dish around. The fact that most people only enjoy it once a year makes it even more addictive.
Although some hate on Rachael Ray for giving her dishes wacky names, I've always been a fan of her "stuffing muffins." The individual sized portions of stuffing have a crispy exterior and succulent inside. Unlike some stuffings, this one doesn't include any meat; instead it pairs apples with onions to create a flavorful base.
Cook them in the muffin tins, or for a fun alternative, do what I did and bake them in mini muffin tins. The resulting stuffing bite pops in your mouth and is great served as an appetizer. Learn Ray's method after the break.