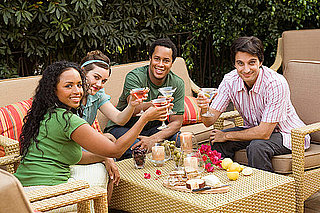 When hosting a party in a pretty outdoor space, it's easy to keep the decorations to a minimum. For my
Summer cocktail party
tonight, I'll let the natural beauty of my sister's garden — complete with roses and koi pond — be the focal point. Then I'll create stations by placing small folding tables and chair clusters around the garden. To ensure flow,
the food
will be set up on platters in one area and
the drink-making
supplies in another part of the yard.
Outdoor globe lights take the patio from ordinary day to party night, and fresh-cut flowers look lovely on the tables.