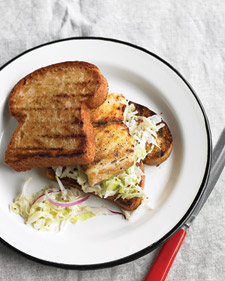 Already, I'm pining for the
fish sandwiches
that I enjoyed on my
culinary tour of Maui
. That's why, for dinner tonight, I'm going to re-create this casual, kid-friendly meal in the comfort of my own home.
Don't be intimidated by the idea of throwing a delicate protein like fish on the grill. Just opt for a firm-fleshed species, like striped bass, being sure to dry it completely before putting it on the grill. Once it's cooking, leave the fish alone to do its thing; flip it and remove it from heat using the thinnest, widest spatula possible.
To make this meal a shore thing tonight, read more.