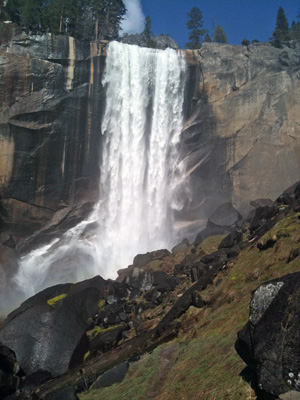 Last weekend started out pretty typical: my boyfriend and I made the four-hour drive to Yosemite for a few days of climbing with friends. But what I wasn't counting on was sleeping in that first morning and missing my chance to climb. Left alone, I figured I might as well go for a hike. My original plan was to do a two-mile hike to the base of Vernal Falls — ha! Twelve hours and 17 miles later, I had endured one of the most difficult treks of my life.
I would caution anyone to face a long distance challenge with a friend — especially for safety reasons. But if you've ever stopped yourself from going on a long run, hike, or bike ride because you were alone, it's worth considering as long as you do your research and come prepared. I can't remember the last time I felt so completely gratified and accomplished. Here are the things that helped me endure the trek.
Do your research. While I wasn't expecting to go beyond Vernal Falls via the Mist Trail and then take on Half Dome, I was prepared. It's a hike I've always wanted to do so I knew what to expect. I studied it enough to know the route and trail conditions with confidence. I also had done the Mist Trail (the beginning of the hike to Half Dome) several times in my past.
Be prepared. I didn't expect to go on a epic hike, but I did expect to be away from my camp until sundown, so I packed appropriately. In my pack I had enough food and water to last me beyond a full day. I also had extra layers of clothing, a headlamp, map, sunscreen, and a compass.
Find out what other tips helped me on my trek, and share your own stories with me when you read more