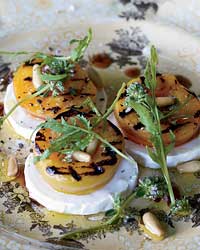 While some people host
a crazy weekend in Vegas
and others opt for an activity-based
bachelorette party featuring belly dancing
, my friend Melissa is doing a low-key weekend in Calistoga to say goodbye to her singledom. Her maid of honor has rented a beautiful house with a grill and garden, and she's planned a weekend of sunbathing and wine tasting.
On Friday night when we arrive, instead of going out for a night on the town, we'll spend the evening by the pool enjoying a leisurely and luxurious dinner. Naturally, I'm in charge of the cooking! To start, I'll put together a cheese platter with homemade hummus and pita chips on the side.
When we sit down to dinner, I'll serve grilled shrimp with roasted garlic-herb sauce, orzo and zucchini salad, and grilled apricots with arugula and goat cheese. These recipes make a wonderful Summer menu perfect for any outdoor occasion, so take a look at them now.