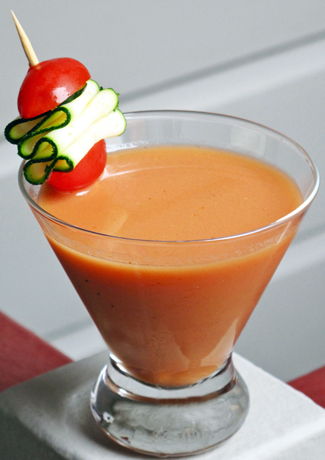 Spanish authority José Andrés isn't just a talented chef; he's also got an extraordinary sense of humor. "When you drink everything, life is so much better!" he exclaimed during a gazpacho-making demonstration
in Aspen
earlier this Summer. He then proceeded to spike his gazpacho and down it in front of a live audience.
As a lover of all things tomato, I was not only smitten with his Andalucían gazpacho, but also with the concept of a bloody mary with made-from-scratch gazpacho. By making your own tomato base, then garnishing the cocktail with raw vegetables, you achieve an all-natural, farm-fresh bloody mary.
Skip the salty tomato juice from a can and make a better bloody mary when you read on.